Started at 3:40 and at sundown, after multiple beverage breaks and a landscaping exercise at the creek crossing, 5800' was cool, the opposite of the caliente in Catalina let alone Tucson. The challenging, yet not carnage causing, trail delivered. 33s and a rear locker would be a good minimum for this run and would have made for a much more challenging ascent. This would make for a fantastic summer overnighter, my plan for next time. As always don't go alone (my mistake) because if something goes wrong it's a LONG way down and out. The upside is you'll have great cell coverage (verizon at least) almost all the way.
Next time I hope to shoot for the crack of noon for a takeoff time and make it to the observatory by dark.
My radiator fan shit the bed, thought it was the relay again...no such luck, so the ride back took until dawn. Although the trail was so overgrown that trees in the middle of the trail were taller than those next to it, we had no problem finding our way back down.
So add in the Perseid meteor shower and you've got a really "cool" summer run.
Am I ready to go again?
Does mouse shit roll?
The "dreaded" creek crossing: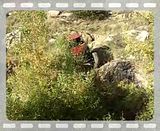 The left turn and washout @ the big tree (which is no more since the fires)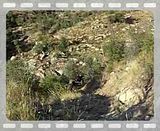 Reaching the saddle @ the sign, the end of the trail.